Skye Humphries was first persuaded to dance Lindy Hop by his mother in 1996, but quickly discovered his own love of social dancing, swing music and the Lindy Hop community. This led him to a wider interest in dance and he took classes in ballet, modern, and Jazz. Since 1999 he has taught wherever Lindy Hop is done- from national weekends to international dance camps. He is a founding member of some the most influential modern Lindy Hop troupes- including Minnie's Moochers, Mad Dog, and the Silver Shadows. Skye has also won titles at all of the major Lindy Hop competitions- including ULHS, ILHC, ALHC and the World Lindy Hop Championships.
Frida Segerdahl has been dancing since her early childhood. Her very first dance interest was Swedish folk dances and Swedish Bugg and later moved on to Boogie Woogie. She also attended a three year dance dance high school focusing on modern and contemporary jazz dance and ballet. Training and competing brought her to Herräng Dance Camp where she was exposed to Lindy hop on the social dance floor for the first time and she fell head over heels in love with the music and the dance, finding a freedom of expression she had never felt before. From that point she was hooked and has never looked back. She joined the performance group The Rhythm Hot Shots, now known as The Hot Shots, a celebration of Harlem rhythms, for 15 years.
There she got the opportunity to work hard, learning and performing a broad spectrum of the African American dances she loves such as Lindy Hop, solo jazz, charleston and tap. She feels incredibly happy and humble that she has had the opportunity to travel the world performing, teaching, competing and sharing her passion for this artform for the last 20 years.
Photo: (c) Tamara Pinco
Elze and Peter are maybe just the right amount of crazy you've been looking for. She comes from Lithuania, while he comes from Los Angeles and together, they have this Euro-American style all about fun and connectedness. Their musicality, playfulness, and creativity are not just parts of their light-hearted personalities as dancers, but also as instructors. For them, Lindy Hop is much more than only leading and following… it's dancing… trying to feel your partner… and in the meantime having a freaking great time!
Their energy is contagious and their class material is stimulating. Be prepared for loud laughs, crazy fun, and exciting new moves!
Sonia and Hector, a professional Lindy Hop couple (Swing Dancers). They both have been teaching Lindy Hop on a regular basis in various dance schools in Barcelona since 2003 and they have been partly responsible for promoting the success of the Lindy Hop boom nationally. They are now are travelling all around the world involved in "spreading the Lindy Hop word", venturing on as many attractive projects as possible. Sonia and Hector are keen to emonstrate their love and enthusiasm for Lindy Hop through their work in the hope that others too can enjoy and learn the same.
Hector and Sonia teaching perspective is focused on the fundamental aspects of what they find interesting in Lindy Hop; bouncing, partner communication and quality of movement form the basis of their teaching. From their own creative standpoint, teaching "cool" moves or combinations is not the priority, although they use them
as tools for enjoyment and as a way for students to remember what they have absorbed during the classes. Hector and Sonia always try to incorporate their own individual creativity into their teaching, often showing students their own originality and invention in steps and movements which they have developed. They do this to help the student on their own creative journey and inspiration. Feedback has shown Hector and Sonia that students enjoy clear examples to explain certain movements.
Alice – I started dancing at the very young age of 4 years old and have done numerous types of dances until I fell in love with Lindy Hop and solo jazz. I have now been swing dancing for 14 years and keep being fascinated by the art of improvisation. Connecting with my partner through rhythm helps me dance my following and is the most inspiring thing to me at the moment. I have been spreading the joy of lindy hop and authentic jazz in more than 30 countries through teaching, performing, competing and social dancing. I love the diversity of movement and the freedom of expression this dance brings to the world. I hope to keep learning things and keep on inspiring people for as long as possible.
Felipe – Many ask how Felipe learned Lindy Hop so quickly: transitioning from a toilet-cleaning newbie dancer marveling at the Folkets Hus floor to a Herrang instructor in three short years. The explanation is simple: his pre-Lindy life prepared him for what was to come. Training in theatrical acting gave Felipe body awareness and control as well as an ability to improvise–both in his energetic and now infamous class warm-ups, and in the competitions where he always shines. Felipe's experience playing drums, as well as his youth in Brazil –where the music and dance culture are rich– gave him an innate sense of rhythm. And finally Felipe's days as a dancing party-animator for a live music club in Brazil gave him plenty of training for getting people excited about dancing in his Lindy Hop classes today.. But more important than any of this is that Felipe has embodied the Lindy Hop spirit since before he knew it existed. It is hard to find someone who doesn't like Felipe. His warm personality charms every dancer he meets, and his ability to connect with people in conversation carries over onto the dance floor. He leaves every follower with a smile, and anyone who has danced or talked with him will confirm: he always makes you feel special.
Gustav was rather sporty when one day his sister suggested he try Lindy Hop by going to Herräng (the biggest Dance Camp in the world which takes place in Sweden): First course, and already lucky: boom: lesson with Frankie Manning! Gustav is a dancer and full-time teacher in Barcelona. His teaching is focused on rhythm and fluidity. He works constantly to improve his movements by practicing Solo Jazz. He also likes to participate in competitions such as the Internationak Lindy Hop Championships in Washington, The European Swing dance Championship and Snowball in Stockholm.
Laia started dancing at the age of six. She practiced ballet, contemporary and flamenco for six years. At the age of 12, she began to train and practice ballroom dancing. She then turned to Lindy Hop at 19 when her parents took her to a swing concert. Now a full-time dancer and teacher in Barcelona, she never lets go of her students to work on their rhythm and actively participate in the dance. She works on her Lindy Hop as much as solo jazz. Her goal: to combine fun, rhythm and humor in her dance. Laia enjoys dancing in shows and competing in Lindy Hop or solo dance: her achievements include victories in Snowball, ILHC and Lindy Shock.
Jazzombies is David Skinner's swing ensemble, with a lineup featuring some of the best swing musicians in Oslo. The band plays classic jazz tunes, by Benny Goodman, Fats Waller, Duke Ellington, Nat King Cole, George Gershwin, and many more.
The Jazzombies have played for us at Winter Jump several times, including performing during teacher impro dances – check it out! This year they will play for us both Friday and Saturday!!
David Skinner Quartet
back to Winter Jump 2023! Just like previous years, they will be playing for us at the Thursday night pre-party.
Lars Frank, Stig Hvalryg, Magnus Eide and David Skinner
Photo: (c) Thomas Johannessen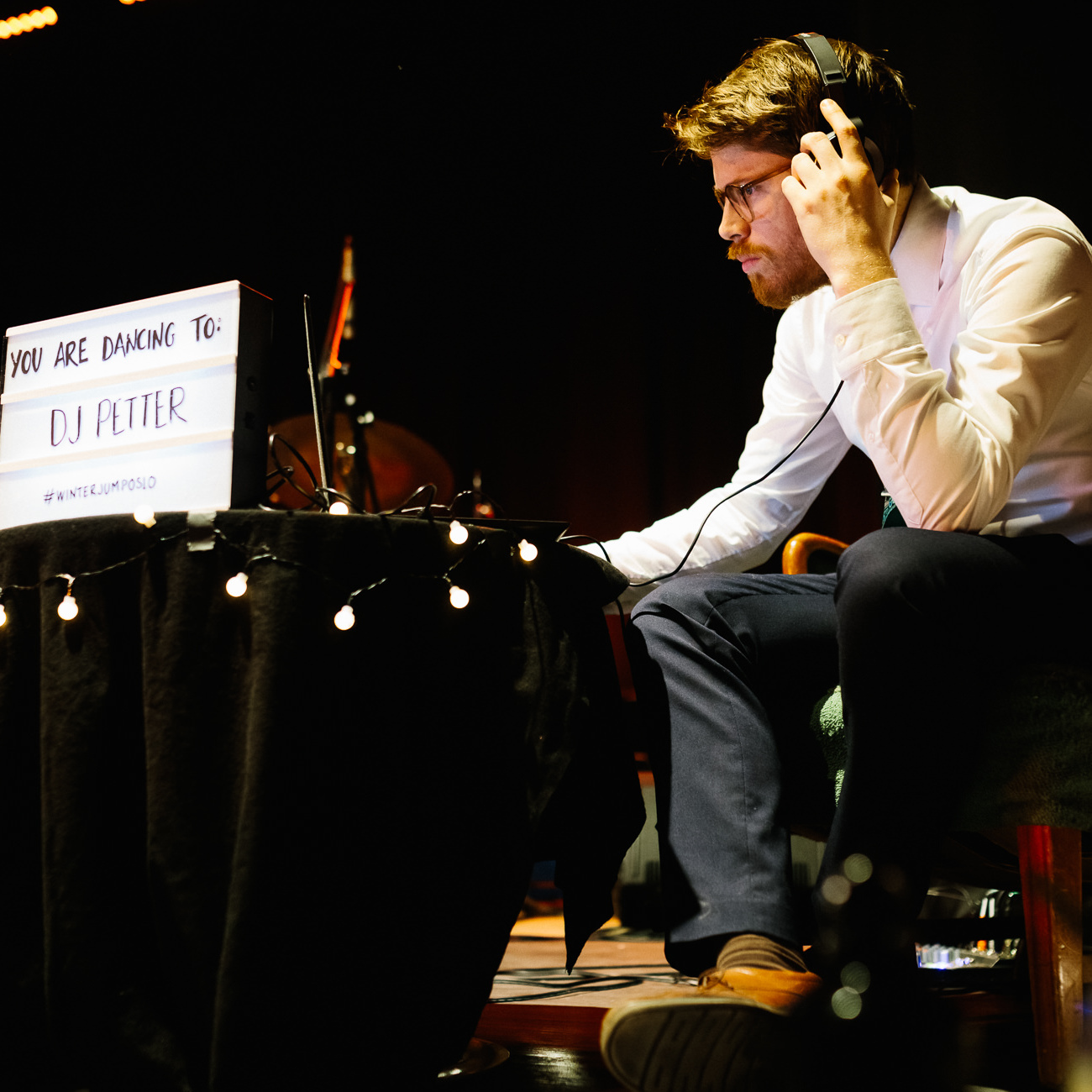 DJ Petter is passionate about swing music: for listening to, dancing to and DJing. When dancing he loves playing with the music and rhythm variations, and he believes that strong solo dancing is the core of good Lindy Hop.
Stephanie hails from Tāmaki Makaurau, Aotearoa, and is currently based in Berlin, Germany. She is an obsessive photographer capturing the in-between, seizing the spirit of the moment.